About Us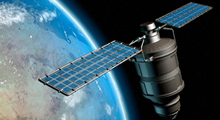 GATS is a small aerospace company founded by Larry L. Gordley in 1986. GATS provides instrument development, flight operations, retrieval algorithms, and data processing/management systems for NASA atmospheric remote sensing missions.
Located in Newport News, Virginia, near the NASA Langley Research Center, the main office houses the GATS Satellite Payload Operations Center and Scientific Computing Facility, from which we operate and process science data from multiple satellite instruments. GATS also maintains an office in Boulder, Colorado and Driggs, Idaho.
Management Team
Larry L. Gordley - President, CEO
Mr. Gordley has patented a limb scan technique for absolute calibration in the thermal IR. He is the holder of six patents as well as one pending on advance sensor techniques, including the invention of Doppler Modulated Gas Correlation, the DWTS technique.
David C. Fritts - VP Atmospheric Research
Mr. Fritts has worked in a number of areas in atmospheric dynamics, having broad experience with both theoretical and experimental activities. Dave received a Ph.D. in physics from the University of Illinois in 1977. Following postdoctoral appointments with NCAR and the NOAA Aeronomy Laboratory, he spent 15 years as a professor at the Universities of Alaska and Colorado and 7 years in corporate research.